What is the price per square foot for a Mason County waterfront home right now?
This chart is created for you every month from sales in the MLS.  You can always refer to this chart to see how things are going right now in the southwest Puget Sound.
This chart illustrates what I have said for years – there is no one answer to the value of Mason County waterfront.  Sometimes, it depend upon the time of year.  Sometimes, if a home is sold in February verses July, there can be as much as $70 per foot difference.  That's a $140,000 difference in the sales price of a 2000 square foot home.
It's given that every beach is different – some properties have higher banks and colder water temperature. What are the boating options, the views and proximity to services?  To compare South Puget Sound beaches, you should at very least break the numbers up into real estate areas – each area with its own price range.
HISTORIC VALUES – LET'S LOOK AT ANNUAL CHARTS
Are you new to waterfront property?  Some beaches are more expensive than others for a variety of reason.  They are all on the same Puget Sound but historically command their own values.  Every year, I produce these charts to help define where you can find the best bargains.
For each beach, I create four (4) charts from actual sales data taken directly from the MLS.  No homes are exactly alike – one home may have a dock or a granite counter-top but without question, there is a comp here for every home.
Chart #1 – "Scattergram Pricing Chart"
Each dot is an actual sale. The vertical axis is price and the horizontal is its square footage. Given all these points of sale, the blue line is a mathematical average of the "price per square foot" at any given size. This will give you some idea of the cost of an area home by footage.
Chart #2 – "Time to Sell"
This chart is "Days on Market" – the time required to sell a beach house as a function of its price. You can combine the information from this chart with the "Buying Patterns" chart to get an idea when best to list a home.
Chart #3 – "Buying Pattern"
This chart documents "Buying Patterns" from the perspective of price to the date it sold. This is an attempt to determine what time of the year beach homes are sold. Remember, the "date sold" is when a sale closed and recorded, not when the sellers agreed to an offer. Subtract about 40 days to get when the seller agreed to their offer.
Chart #4 – "What are the Odds of Selling Your Home?"
What percentage of homes for sale in a particular area actually sold? For example, on Harron Island, there were seven waterfront homes available for sale in 2015. One sold which means the odds of selling a waterfront home on Harron Island in 2015 was 14%. The blue bars represent what sold, red is those homes that either the listing expired or was cancelled, green is homes still for sale and yellow is sales that are pending.  This chart is not just about demand. It also speaks to supply, what homeowner and buyer expect and suggests how this may affect pricing.
WHAT BEACH INTERESTS YOU –
The Washington State Department of Fish and Wildlife announced today sports fishing for spot shrimp will opens May 5 in Hood Canal and other parts of Puget Sound.
Shrimping should be similar to last year, although according to Mark O'Toole, a shellfish biologist, there is one change this season made to avoid an extreme minus tide. "With such an extreme low tide on May 9, it only made sense to shift the second day of fishing to Friday," O'Toole said in a news release. "We don't want to leave shrimpers stranded 100 feet from the boat ramp on a low afternoon tide."
O'Toole expects a strong turnout by shrimp fishers, especially on the Hood Canal opening day. "Because this is such a popular fishery, boat ramps can get pretty crowded," he said. "As always, we ask that people be patient at the ramps and wait their turn."
A valid 2012-13 fishing license is required to participate in the Hood Canal fishery as well as all areas of Puget Sound and fishers are limited to 80 spot shrimp per day.
Spot shrimp seasons for Puget Sound are:
Hood Canal Shrimp District (Marine Area 12): Open from 9 a.m.-1 p.m. May 5, 11, 12 and 16.
Discovery Bay Shrimp District (Marine Area 6): Open from 7 a.m.-3 p.m. May 5, 11, 12 and 16.
Marine areas 4 (east of the Bonilla-Tatoosh line), 5, 6 and 13 (excluding shrimp districts): Open daily beginning May 5 at 7 a.m. The spot shrimp season closes when the quota is attained or Sept. 15, whichever comes first. The exception is Marine Area 13, which closes for spot shrimp May 31.
Marine Area 7: Opens May 5 at 7 a.m. and will be open May 11, 12, 17, 18 and 19.
Marine areas 8, 9, 10 and 11: Open May 5 and May 11 from 7 a.m.-3 p.m.
Additional dates and times will be announced for these areas if sufficient quota remains.
Unlike previous years, the shrimp fishery will not reopen on the Wednesday after the May 5 opener. Instead, the fishery will reopen in most areas on May 11.
For a description of the marine areas and fishing rules, including regulations, go to WDFW's Recreational Shrimp Fishing website.
| | |
| --- | --- |
| | Congratulations to the Belfair "Taste of the Hood Canal" who is now a Seattle Seafair Community Event. |
The North Mason Rotary who sponsors this Hood Canal summer celebration to support the community was notified today this free annual event held on August 11 is now part of Seafair.
For those outside the Puget Sound, Seafair is Seattle's traditional summer festival. A month-long, region-wide barbecue, that brings an entire community together in celebration. For over 60 years Seafair has been about community events, parades, Miss Seafair, the Navy and Coast Guard, amateur athletics, airplanes and of course, hydroplane boat racing.
The Hood Canal "Taste" features a larger and expanded custom and classic car show as well as beer and wine tasting by Riverhill Winery.  On Saturday, August 11, come and experience specialties from local restaurants, family entertainment & live music throughout the day, food including seafood  and a variety of wonderful treats, informational displays, art and craft booths, fire engines, local artists and lots of fun for all!
There is a reason why Seattle chose to include the Hood Canal "Taste of the Canal" as Mason Counties only contribution to Seafair.  Bring the family to Hood Canal this August 11 so you don't miss this free fun.
The Department of Natural Resources announced on December 1, it will reopen two campgrounds west of Belfair in Tahuya State Forest — Camp Spilman and Kammenga.
Budget cuts closed the campgrounds two years ago but received grant funding from the Non-highway and Off-road Vehicle Activities program.  The new funding will help pay for enforcement, maintenance and staffing. Crews from the Mission Creek Corrections Center will help maintain the facilities and trails and will installing small bridges where needed.
This is an area made popular with off-road trail riding.  See a video made last year.
Visitors can start camping Jan. 6 at the Tahuya River Horse Camp on a first-come, first-served basis.  Click here to download a map of the park
At the Big Bend on Hood Canal near Shelton, snaggle-nosed chum salmon take over the fishing spotlight about this time each year.  Between the Coho and winter steelhead runs, I can report the Chum have arrived right on time.

State Fish and Wildlife Department checked at the Hoodsport Hatchery on Hood Canal one day last week and counted 23 beach fishermen with 76 chums.  That's hard-to-beat salmon fishing, particularly considering you don't need a boat. These fish are in good shape and plentiful but they won't stay that way very long.
The tribal beach fishery started on the Olympic Peninsula Nov. 14, according to a state spokesman at the hatchery, running Monday, Wednesday and Friday at least through the end of the month. Sport fishing is concentrated along the hatchery stream channel, using steelhead-type gear, and since it's necessary to keep firm control of hooked fish, thicker line is better than light. Fly fishermen score as well, working surrounding water.
This area of Hood Canal also has a handicapped fishing platform for wheelchair-bound anglers, best at high tide. Call the hatchery's recorded fishing line for current conditions, at 360-877-5222.
http://www.youtube.com/watch?v=jm6DKGE1Kfw
SHELTON, WA – TAKE A LAP ON THE WORLD'S NEWEST AUTO ROAD RACING COURSE
For those motorheads who are following the building of Ridge Motorsport Park, the road is in.  The world newest purpose-built road race course is now in asphalt.  Take a ride on this YouTube video.
I have a question to those sport car fans – you know who you are.  The question: What kind of a car was used to take this video?  My guess: an Austin Healey Sprite or maybe a TR-6.
For those old enough to remember, this is history repeating itself.  Fifty years ago, before there was a Pacific Raceway or a Portland International Raceway, Shelton Washington was the northwest center for auto racing. Famous drivers, such as Lotus team member and F1 driver Pete Lovely, drove race cars like Lotus 11s and Ferraris between the hay bales at the Shelton Airport for little more than the sport of racing.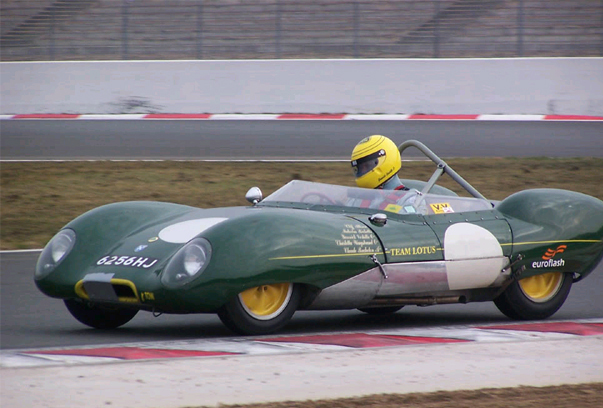 Recently, a group of autosport enthusiasts have been trying to return this tradition to Mason County with the creation of The Ridge Motorsports Park. It's been a long and winding road but the Shelton City Council approved a "special use permit" to operate a race park. Located on the back side of the Shelton Airport, the park will include a 2.5 mile road course and 4-lane quarter mile drag strip.
The road course is now a road. About halfway through the course, there is even a corner reminiscent of the Cork Screw at Laguna Seca – should be thrilling to drive.  Now comes the task of building the world-class facilities to make it truly a destination race track for sports car, motorcycle and drag racers to enjoy. You can view how the course was built at their website at www.ridgemotorsportspark.com.
The South Sounder would like to thank everyone for their supportive comments and enthusiasm for this project and facility. Although there is a huge amount of work yet to do to get this project done in time for 2012 events, we are thrilled to welcome The Ridge to Shelton.
The Hood Canal Coordinating Council announced that on Friday, November 4th, seven award-winners will be honored for their help to protect and restore Hood Canal.
These seven people "embody the spirit of fostering cooperation, collaboration and lasting relationships to achieve a healthy Hood Canal," said Robin Lawlis of the coordinating council.
The seven will be recognized in Port Townsend at a conference titled "Celebrating Actions in Hood Canal." The conference will be at Fort Worden State Park from 10 a.m. to 3 p.m. Limited space remains available. Reservations can be obtained by calling Lawlis at 360-981-4214.
To read more about both the conference and the seven honorees, go to  http://www.kitsapsun.com/news/2011/nov/02/hood-canal-award-winners-named/
Ex-Governor Rosellini
The former governor of the State of Washington and friend of the Olympic Peninsula has died at his home at 101.
Rosellini was chairman of the Toll Bridge Authority in the 1950s and as governor was a proponent of a floating bridge across the saltwater Hood Canal.  This bridge was perhaps the single piece of infrastructure that changed the face of the Olympic Peninsula forever, giving millions easy access to the undeveloped beauty that is our home.
The Hood Canal Floating Bridge was a concept engineers worried would not only be susceptible to salt corrosion but to tidal motions that raise and lower the bridge up to 16 feet.  There were problems with the pontoons that required more funding buy in August 1961, motor vehicles could reach Jefferson and Clallam counties without having to drive from Olympia, Shelton or Aberdeen.
Governor Rosellini will also be remembered as the chief executive during the Seattle World's Fair in 1962.  This blogger still remembers him standing under the Space Needle with Elvis Presley, signing autographs as if he was a rock star.  Governor Rosellini will always be remembered to have the vision and drive to open the State of Washington and the Olympic Peninsula to millions of Americans vacationers.